REMINDER: Todays Elementary ballgames have been moved to Gore due to construction of the gym. First game will tip off at 4:30.
The 3-4 & 5-6 basketball games scheduled to be played at Braggs Monday evening have been moved to Gore due to the gym construction. Games scheduled to start at 4:30.
3-4 and 5-6 basketball teams will be playing Friday 10/21 @ Porum with first game starting at 1:00. Bus will leave at 12:00 and return at 4:30.
The 3-4 and 5-6 basketball games at Okay have been rescheduled for tomorrow, October 19. 3-4 Girls will start at 10:00. We will return before school is out.
5th and 6th Basketball Game tomorrow @ Gore Tournament. Bus leaves at 5:00, Girls play at 5:40, Boys play at 6:20.
5/6 basketball will play at Webber Falls Thursday 10/13. Girls start at 4:30 with boys following at 5:15. The bus will leave at 3:50.
The High School Boys and Girls Basketball teams will have a scrimmage @ Schulter tomorrow, October 11th. We will leave school at 2:15.
JOM elections tonight beginning at 6pm in the cafeteria.
The Elementary Basketball games at Okay for 10/11 has been postponed. New date and time TBA. An updated Elementary Basketball schedule will be sent home with your child tomorrow.
5/6 basketball teams play @ webbers falls today Monday 10-10-22. Girls start @ 6:00 with boys @ 6:45. Bus leaves @ 5:20 and will return at 7:45.
We have P/T Conferences tonight and Monday from 4-7. Parents can attend either night - or both nights - if needed. Due to basketball conflicts at the WF Tournament, Coach Davis will only be available for conferences tonight and Coach Belcher will only be available for conferences on Monday.
Tomorrow (Wed. Oct. 5th), our 3rd thru 8th grade students will be attending the Diniyoyli (Children) Festival that the Cherokee Nation is hosting at Sequoyah's Cabin N. of Sallisaw. Our students (who have permission slips) will leave school at 8:30 & return to Braggs by 3:00. Lunch will be provided.
Our 3rd and 4th Grade Basketball teams play at Webbers Falls at 6:00 and 6:45. The bus will leave Braggs at 5:20 p.m. See Coach Davis with any questions. If a parent/guardian is at the game and wants to take their student home, please check them out with Coach Davis.
Our 3rd & 4th Grade Basketball Teams play Webbers Falls tomorrow at 4:30 and 5:15 at the WF Festival. The bus will leave at 3:50 and return to Braggs at 6:15. These students can stay after school tomorrow.
We are still accepting transfers in almost every grade level. We even have a few spots available in our three year old class and our virtual school. Call the school office for enrollment packets and information.
All of our parents/guardians who are listed as a primary guardian in Wengage, and have provide an email address to us, are now able to view their student's grades and attendance through the Wengage Parent Portal. Please call ReTonya in the office if you need to update your student's file with a parental email account.
Federal Programs Meeting Braggs HS School Library Monday, September 26, 2022 3:30 p.m. All stakeholders are invited to attend. We will be discussing and getting patron input on the use of federal stimulus dollars designated for learning loss as well as several other federal programs.
We sent out permission slips for Gifted and Talented Testing, which will begin next week during school hours in small groups. Any student in grades 3-12 can be tested if the parent returns a permission slip. It is not required of any student. Thanks and have a great weekend!
We are pleased to announce that all of our 5th-12 grade students will have access to the Stop It Bullying/Emergency Notification App. These students are going through an introduction today and tomorrow in order to be able to use this very valuable tool. We also encourage any parent of a K-12 Braggs student to download this App on the App Store or Google Play.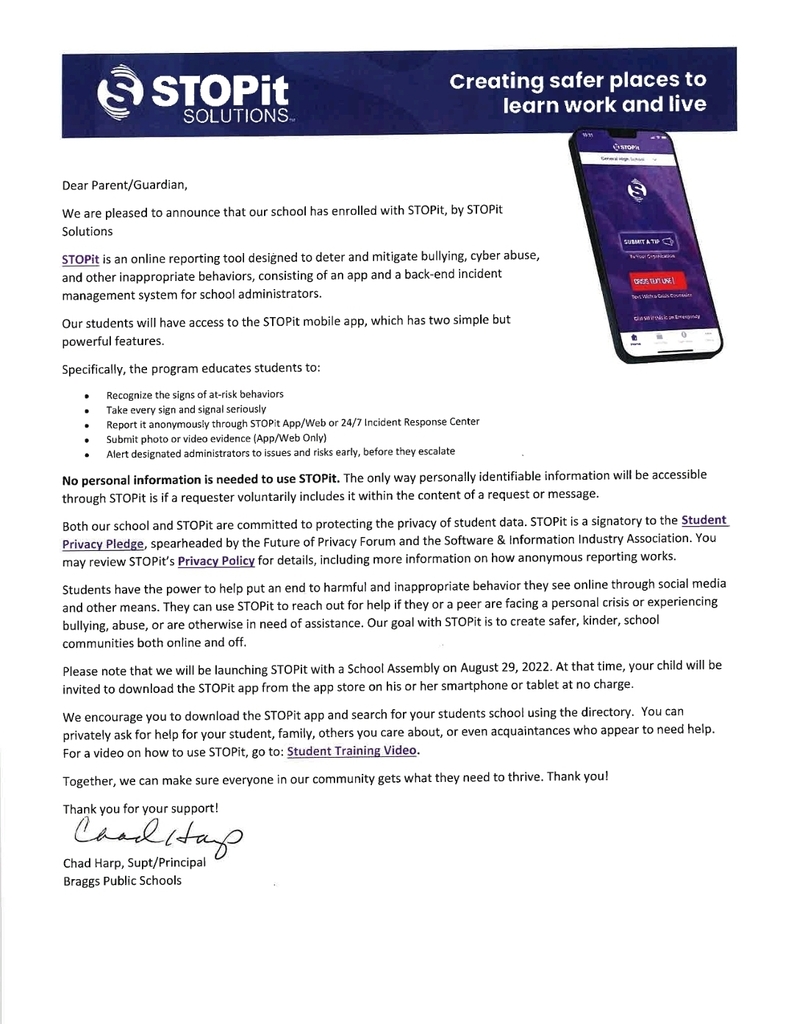 Braggs School Family: We were made aware of a cell phone picture circulating on social media that showed a student clearly sitting on the floor near the front of an activity bus. The safety of our students is of the utmost importance, and I am deeply disappointed by this disregard of proper safety procedures for our students. This is not the Wildcat way. The issue will be addressed internally and I will do everything to make sure your students remain safe while in our care. However, this is a personnel matter & I am unable to offer any further comment.